Intuit Payroll for iPad
Apr 25, 2012 - Mar 20, 2013
As lead interaction designer for the IOP Mobile team, I designed our first ever application for iPad. It required designing the application's structure from scratch, creating a new and engaging visual language, influencing partners on key design decisions, aiding in important technical discussions, and navigating changes in roadmap and priorities. After 4 months of design and 6 months of development effort, Intuit Online Payroll for iPad is in the app store today with a 4.5 Star Rating and fantastic customer reviews. View it in the App Store!
KICK OFF IDEA JAM
To kick off this exciting new project, I organized a cross-functional BU-wide Idea Jam to bring out some wild, crazy, and inspirational new ideas. We spent time getting the creative juices flowing with some warm-up exercises and then quickly jumped into some structured brainstorming activities.
OUR VISION
Customers and press rave about the Intuit Online Payroll iPad app calling it the most valuable business app for employers because it's wildly innovative, deeply immersive, and surprisingly effortless. Existing customers love experiencing payroll through the app so much that they find themselves eagerly sharing it with others.
CONCEPT SKETCHES & CO-DESIGN WITH CUSTOMERS
Brimming with lots of new ideas, I started some early sketching of two key components of the app: the navigation and the payday workflow. The goal of these sketches was to inspire some new ideas for structure and immersion within the application. After getting some rough sketches out, we decided to run some of our new ideas by customers in a co-design session where they were encouraged to rip apart our ideas and help us put the application back together with the elements that would work best for them. We had a ton of fun and learned a lot about our customers' expectations.
Workflow diagrams
With a few of the most promising directions for the payday workflow, I began working through the implications for detailed aspects of the flow such as entering sick and vacation hours for employees.
USER RESEARCH & Synthesis
We made several trips to customer sites to better understand their mobile needs and usage. In some cases, we even brought working prototypes to get a sense for what was working and what wasn't. Then I led the team through synthesizing what we heard and take aways for next steps.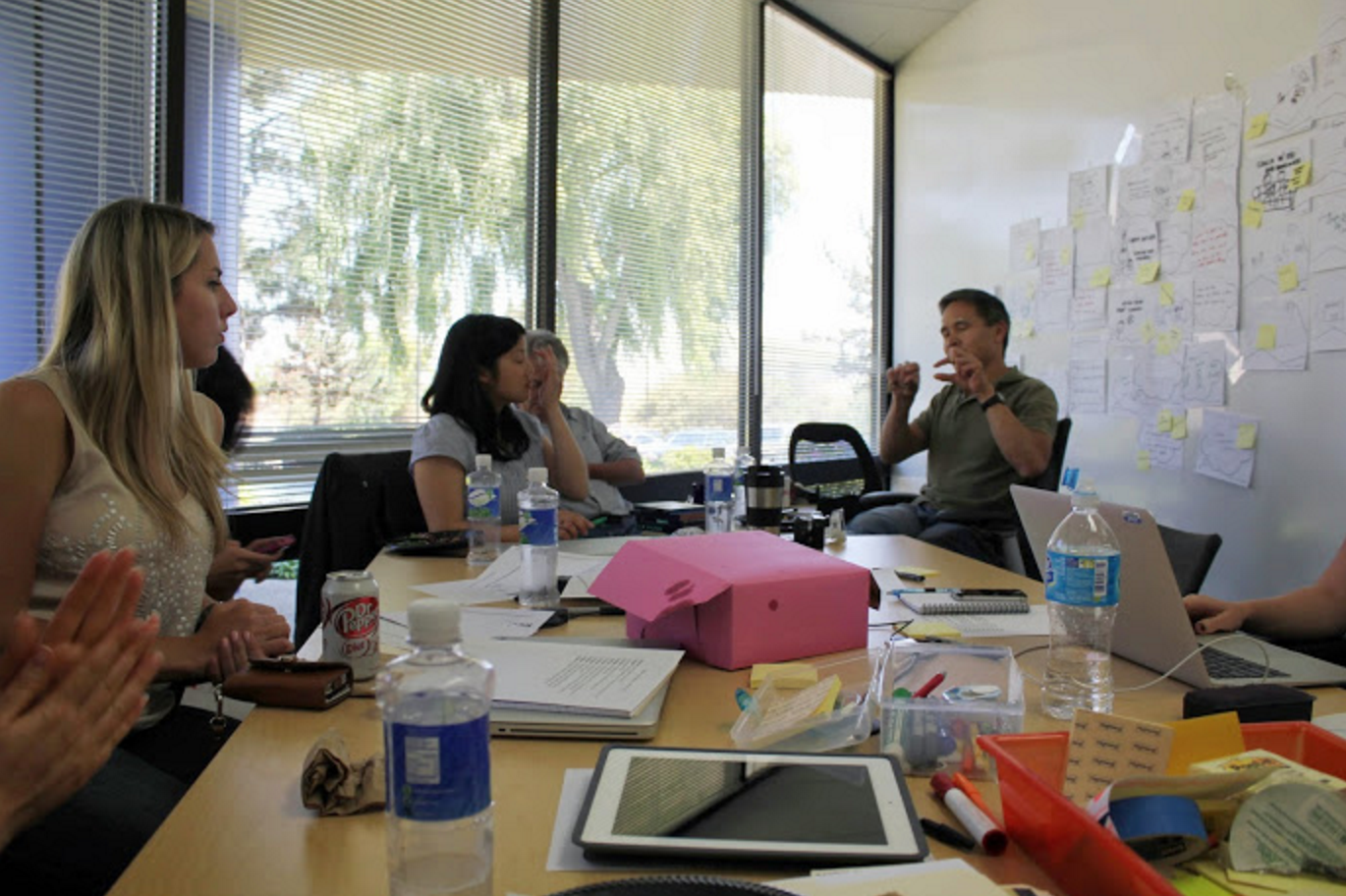 EARLY VISUAL EXPLORATIONS
As the navigation model was starting to come together and the team was defining a minimum viable experience, we started to exploration visual concepts for a new dashboard. I helped generate concepts and rough wires while my visual designer crafted the final mocks below.
XCODE PROTOTYPE PROOF OF CONCEPT
Once we had a few design directions for the key payroll workflow, we needed to prototype with our developers to work out a few key micro-interactions. Above we built a pop-over keypad to see how it felt to enter hours directly onto the timecard UI.
DETAILED SPECS
As we finalized our MVP design, I crafted a poster-sized spec sheet to help the team see all of the custom interface components along with detailed redlines. Since common components would be leveraged across multiple screens, it was important to see both the big picture and the minor details.
FINAL MVP LAUNCH
The team struggled to negotiate scope and timeline with great design but ultimately landed on the screens above for our MVP launch. By getting the app to market quickly we were able to learn from early feedback and make improvements along the way.